Bushnell's Elite Custom 7X26: The best compact binocular for your money?
July 2012
The Bushnell Elite Custom 7X26 compact binocular
has been a favorite of discriminating birders, travelers, outdoorsmen and others for many years. The current model has improvements and we found it to live up to its reputation and more!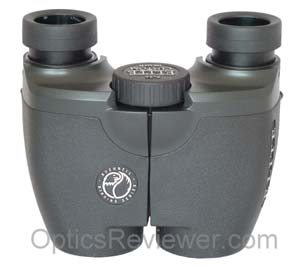 As far as our historian has been able to determine, this little compact binocular was first introduced to the world as the Bushnell Custom Compact 7X26 (with a 6X25 sibling which has since been dropped) back in the 1960s and was judged good enough to be used in NASA's Gemini program which ran from 1962 to 1966. The Bausch and Lomb binocular came back under the Bushnell name in about 1995 and the Bushnell people tell us that the optical design fundamentals haven't had any major changes since then, although various incremental improvements have been made.
Succinctly, we believe the Bushnell Elite Custom is the result of significant research and development, money and creative design talent, along with technological advancements spanning decades. Can it get better? Surely, as optics technologies advance we're confident that Bushnell will apply them to the little Elite Custom 7X26. It's a tough act for any compact Porro prism to follow!
We've observed that Bushnell Custom binoculars have a number of very loyal users around the world. The fact that Bushnell continues to sell this classic with improvements as developed by the industry year after year for 50 years is a testimony to both the physical and optical design. Many Elite Custom owners look to replace an aging instrument with a new one while others simply look for an optical technician who can effect a good repair.
The diminutive 7X26 arrived just in time to go on a trip to Seoul, South Korea. We thought it would be an ideal opportunity to use it as both a travel binocular and see how it functioned for checking out the bird population. Although the trip was not primarily for bird watching, we did find opportunity to get out to local parks and quickly spotted an attractive Grey-headed Woodpecker and a bouncy Marsh Tit (a close relative of the North American Chickadees) as well as the Korean Magpies, sparrows and yet others of which we weren't able to get pictures.

Although our days were solidly scheduled indoors, we were able to get out and about to do what we thought of as our bit of tourist-type activities. One day we climbed to the top of Jeongbal "Mountain" and took advantage of the Elite Custom binocular's optics to enjoy the viewing opportunity. Otherwise, we took advantage of excellent transportation opportunities to visit a nearby park or two. The tiny size of the binocular and its light weight made it ideal to carry and use frequently and that's really what you want in a travel binocular!
In a word, we have been "Delighted" with this binocular's performance not only as a travel binocular, but as a solid all-around performer.
What did we find with the Bushnell Custom Binoculars?
Starting with the look and feel when we took it out of the box, we found it weighed in at a respectable 12 oz (342g). It may be helpful to consider this for a moment. We've used binoculars lighter than these, but found that they were difficult to hold steady enough to get a decent view. These are just about the right weight to still be light, but have enough heft to them to make them easier to hold still.
The rubber armoring has a very slight texture that keeps it from being particularly slippery in cold hands.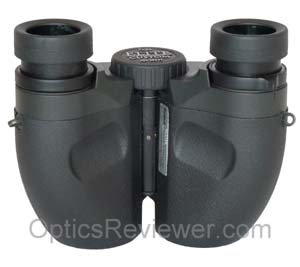 It has thumb indents and they seem to be placed well. Quite without paying attention to the indents, we found our thumbs automatically using them when we picked up the Elite Custom 7X26. The design of the entire body seems to be such that it very comfortable to hold in the hands. The forefingers rest comfortably and naturally on top of the focus wheel and we had no trouble with having to search for it in using the binocular.
Are there no flaws? We would change two things involving the body of the Elite Custom binocular if we could. One of them is the placement of the eyelets for the neck strap. While some people prefer it, none of us particularly cares for a binocular designed so the neck strap attaches to the back or underside of the binocular. Such an instrument typically has the eyepieces leaning out, away from the body while it's hanging around the neck and we feel that they get in the way. We don't consider this a deal breaker, though, and here's the reason why.
This binocular's eyelets for attaching the neck strap are comfortably set slightly to the rear of the middle on the side when the interpupillary distance is at its maximum. When they're adjusted for the individual, however, this means that the eyelets are more toward the rear and it results in the top of binocular (the ocular end) leaning away from the body. Our guess is that this may be a "best compromise" position for the Custom's design since, if the eyelets were further forward the front of the binocular, it would tilt the objective lens' end away from the body (at maximum interpupillary distance) and that would be even less desirable.
Waterproof and Fog-proof They're Not
Like most presently available binoculars, these have rubber armoring which fits over the unit from about the neck strap eyelets to the objective lens' end. You may already know that rubber armoring isn't what waterproofs a binocular. It's worth knowing that this binocular isn't waterproof. You'll want to keep it dry.
It may be helpful to know that, while we generally prefer waterproof binoculars, we've never had a significant problem keeping a binocular of this size dry. If we're in a situation where we encounter high humidity or the possibility of rain while we're on an excursion, we simply take along a plastic bag (we like the ones with zipper-like sliding closures) large enough to put it in if/when it starts to rain.
What are They Using to Make the Chassis?
A number of us initially assumed that magnesium was used for the frame because the larger Bushnell Elite binoculars have magnesium frames. We asked a friend at the company about it, though, and were told that the frame of the smaller, 7X26 compact binocular is actually made from an aluminum alloy. In fact, when we noted some major, otherwise credible web sites which said the frame was magnesium, he contacted the manufacturing plant to be sure we were right in saying it's an aluminum frame! Magnesium is a little lighter and more expensive than aluminum, but both are durable. The use of aluminum likely contributes to the overall solid feel and steadying heft of the instrument.
Most compact binoculars don't have a provision for using them on a tripod and this one is no different. If a person wishes to use them on a tripod, we suggest using a "universal" adapter that grips the binocular barrels.
Eyecups and Eye Relief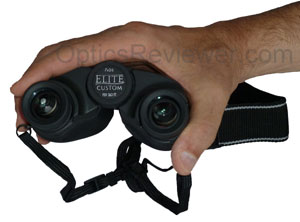 The previously supplied roll-down eyecups have been replaced with small twist-up/twist-down eyecups. This is one of the enhancements to the current model. These seem to work smoothly and easily without offering to collapse in use as some can. They also seem to be an improvement in durability since they'll not crack and break with age.
While the eye relief of 16mm will be generous enough for nearly all eyeglass wearers, we initially thought it was a little long for the eyecups' adjustment of 5mm. This is the second thing we would change if we could. We would like to see if either two-stage eyecups could be made to provide an additional bit of spacing between the eye and eyepiece lens or simply making the existing eyecups a bit "taller." While your experience may vary from ours, we found that we needed to hold the instrument slightly out from our eyes and arrived at the solution of holding our index fingers against our forehead for steadying purposes. Considering the otherwise exceptional quality/value of the Elite Custom 7X26, this is a minor item.
The quality of the eyecups, even though they're small, was very good on our test unit. We liked that aspect a lot!
What about the Center Focus' Design?
You'll often find that a compact binocular has a similarly compact focus wheel. If you've ever tried to use one, you'll understand our frustration with the deviant personality of someone who would create such a design! The center focus wheel on these Bushnell compact binoculars is nicely oversized (we measured its diameter to be about 1.13 inches or 2.87cm) compared to the rest of the instrument and provides easy, precise focusing. That means it isn't difficult to use when we're wearing gloves!
The focus mechanism is smooth, buttery smooth, for focusing pleasure throughout the 1.33 clockwise revolutions from close focus to infinity. Our regular readers know how consistently we beat the "fast focus drum" and urge that a binocular should require a single, full revolution of the focus wheel to go from close focus to infinity. This speed of focus makes it easier to achieve a good focus without fiddling around. We'll accept as much as 1.50 revolutions, but the 7X26 Elite Custom's 1.33 is close enough to a single, full revolution of the focus wheel that it makes us very happy!
The focus wheel itself is ribbed with a softer rubber surface which provides a comfortable amount of friction for the forefinger of average-sized hands to rest easily and naturally on the wheel. Although the focus wheel isn't nearly as wide as that of a full-sized binocular, it readily provides the needed area for ease of use for extended periods.
There is enough resistance in the focus mechanism to avoid excessive play and avoid having to fiddle with the adjustment to achieve a fine focus.
The focus is achieved by moving the objective lenses back and forth within the body. We like the idea of protecting the objective lens' coatings by adjusting the focus to infinity before returning them to their case — thus drawing the surface of the objectives back from the exterior. It's a creative design approach developed years ago, lest we start thinking creativity is only a recent phenomenon! Although Bushnell makes no claims about the Elite Custom being waterproof, we've heard no complaints about dust and dirt getting into the instrument easily.
The Bushnell Elite Custom Binocular is Made in Japan
People are often interested to know where an optical instrument is made. Those made in Japan and Europe have often earned high marks for quality in the past. Other areas are gaining in reputation for high-grade optics while yet others seem to be having more than their share of struggles with quality control.
The 7X26 we ordered and tested for this review had a plate on the underside of the rubber armoring and next to the hinge with the model name, serial number, and "Made in Japan" printed on it.
How the Bushnell Elite Custom 7X26 Performs Optically
With the 7X26 configuration the mathematics works out to provide an above average exit pupil and field of view for a compact binocular. This means a stunningly bright, panoramic view compared to other compact configurations. We're inclined to think that this is a large part of the reason for this binocular's enduring popularity when other models may have a life cycle measured in a few years rather than decades.
One of the improvements incorporated into this updated model is the Rainguard coating on the exterior surfaces of the lenses. If you're in conditions that cause a fog on the outside surface of your lenses, like going from a cool setting into a warmer one, this water repellent coating will make it easier to see through the fog. When we tested it, we also found the Rainguard coating seemed to make lens fogging evaporate/leave significantly more quickly than it did on lenses without the coating.
While it may not initially seem logical to put a water repellent coating on the lenses of a binocular that isn't waterproof, we were curious and experimented with the length of time it took for fog on the external lens surfaces to clear on treated and untreated lenses. We found the water repellent made a significant difference. (You can see a more detailed account of our experiment in our review of Bushnell's Legend Ultra HD binocular.)
Field of View
The field of view for this 7X26 binocular 363 feet at 1,000 yards (121m at 1,000m). That work calculates to a 6.9° angular field of view. A field of view this large will allow you to keep your eye on a wide area of action, whether it's a herd of deer or antelope, a flock of waterfowl, or a football play on a stadium field.
Size of the Bushnell Elite Custom's Sweet Spot
The Custom's magnification and resolution of details is excellent. We felt that the fully multi-coated optics, steadying heft of the instrument, and Porro prism design using BaK-4 glass all contributed to the observable details in a view through the Custom's optics.
Our testing indicated that the area of view with the sharpest, most well-defined view for our Custom 7X26 was about 56% of the radius from the center of the view before the image details began to ever-so-slightly go a bit soft. The point at which we found the details began to actually get a bit fuzzy and less usable was about 67% of the field of view. Usually this is because of the curvature of the lens and it appears that that is the situation in this case.
It's a very good, usable field of view and the details within the sweet spot are excellently defined and contrasted. Given that many binoculars are now using extra-low dispersion glass (sometimes called "high-density glass") lenses to achieve this, we consider it a testimony to the effectiveness lens coatings and prisms that the Bushnell Custom 7X26 is able to achieve level of quality!
Colors
For all practical purposes, the Bushnell Custom is color neutral. Any tendency toward a bias is so minimal that we can't imagine that it would be noticeable in the field.
Low Light Viewing
When taking the comparatively wide field of view along with the nearly 4.0mm exit pupil, it provides for a lot of light to be transmitted to the eye. Combining this with the fully multi-coated optics and Porro prism design (which requires no reflective prism coating such as a silver alloy or dielectric coating) provides an above average viewing experience in low light conditions for a compact binocular. It's 3.7mm exit pupil is also a strong element in the Custom's low light performance.
From conversations we've had, it seems impossible for the average person to conceive that the dramatic difference in brightness exists between this 7X26 configuration and a similar binocular in perhaps a 10X26 configuration. Typically, human nature says "more magnification power must be better" and that's completely understandable from the human nature perspective.
From the technical perspective, however, the 7X26 wins for a variety of reasons — not the least of which is the fact that a brighter view produces more details, contrast, and crispness to the viewed image. In fact, we've found that many people consider this binocular the only compact binocular that's suitable for serious birding and that means superior resolution and low light capability. (Why tell you about bird watchers' preferences? Birders are among the most discriminating binocular users — helping to raise optical standards for everyone.)
Strong Light Viewing
We found that the Elite Custom binocular was a significantly above average in its handling of strong, stray, or reflected light.
Our Test Unit's Close Focus Surprise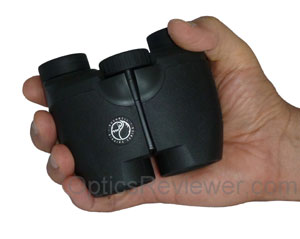 Interestingly enough, although the specifications for the little Bushnell 7X26 binocular indicate a close focus measurement of 7.0 feet (2.4m), we measured the close focus distance for the instrument we purchased and tested at 8.4 feet (2.6m).
Although variations exist between individual manufactured goods and binoculars are no exception, this is a tiny bit surprising since specifications are usually expressed conservatively. A close focus of eight feet is, however, the outside that we recommend for bird watching and an extra five inches (13cm) won't be a deal breaker.
How to Adjust the Bushnell Custom's Diopter
The diopter adjustment on this binocular is a slender (but not uncomfortably so) ring below the right barrel's eyepiece. There is a protrusion that lines up with markings on the body to show a zero setting. The protrusion also makes it easier to know approximately what the adjustment is without having to look at the setting. Although the adjusting ring doesn't lock, the resistance in our unit was sufficient that we didn't experience any problems with inadvertent changes.
Ignazio Porro's Three-dimensional Effect
As has been commented on many times over the years, the prism design given to us by Ignazio Porro (the Porro prism) provides a three-dimensional effect not often equaled by other prism designs. We like it and, when you can get an excellent quality binocular with Porro prisms, we revel in the view.
What Did We Get with Our Elite Custom 7X26?
A Case, Neck Strap, Ocular caps and Incidentals
The case for our little Bushnell Elite Custom binocular is a black padded container that appears to be tailored just for the Custom. It includes a flap that closes over the top of the case with strong magnets to hold it in place as well as a zipper that zips closed under the flap extension where the magnets are located.
Will the magnets hold the binocular inside if the zipper is unzipped and they're the only thing holding the binocular from falling from an upside-down case? Probably not — but we think the magnets are for more for convenience to keep the ocular covers inside the case while the binocular is in use.
The case includes an adjustable, detachable three-quarter inch (1.9cm) strap to go over the shoulder or around the neck. A larger, sturdier strap is really not necessary given the binocular's size and weight.
A neck 1.5 inch (3.8cm) strap of relatively thin nylon webbing with a softer fabric backing is provided for the binocular itself. We found this neck strap to be quite comfortable given the binocular's light weight and it's quite easy to fold the neck strap by thirds and comfortably nest it on top of the ocular caps before zipping the case closed. The neck strap is just the ticket in terms of its own size for a traveler who enjoys traveling as lightly and compactly as we do.
There's an instruction booklet and lens cleaning cloth included with the instrument, too.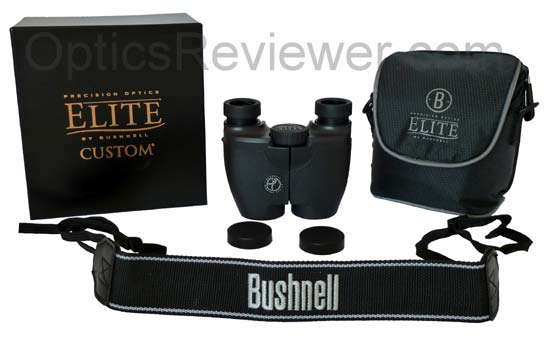 Our Recommendation Regarding the 7X26 Bushnell
The Bushnell Elite Custom 7X26 outperforms the Porro prism compacts we're familiar with and a fair number of roof prism ones, too. It ought to! It's been over five decades in the making with an excellent design foundation and incremental improvements over time! For just about any activity you might want a compact binocular for, you won't get much more by going to an 8X or even a 10X and you won't get a better value for your compact binocular dollar.
It's a favorite of ours and an ideal travel and lightweight backpacking binocular. It's super for bird watching as a secondary or backup binocular. If our budget and/or other circumstances limited us to using a compact binocular as our primary outdoor binocular, this would be the one we would choose. (A medium- or full-size would be better as a primary outdoor binocular, but….)
The Elite Custom 7X26 is presently our reference or benchmark for compact Porro prism binoculars and, as such, we'll likely be keeping it for a while. While there may be roof prism binoculars with better performance at significantly higher prices, we love the little Custom Elite 7X26 and recommend it to anyone who is interested in getting the best compact binocular for the price.
For your convenience, this will take you directly to the Elite Custom 7X26 at Amazon.com
. We also like Amazon.co.uk
for our friends in the UK and as an option for our friends in South Africa and Australia.
If you feel you simply must have a 10X compact Porro prism binocular, we understand about needing a bit more magnification from time to time. If this is you, we recommend considering the Nikon Travelite VI as providing very good views thanks to Nikon's use of aspherical lenses.
The Bushnell Limited Lifetime Warranty Applies to this Binocular
The regular Bushnell Limited Lifetime Warranty applies to the Elite Custom 7X26, too. It warrants that the Elite Custom 7X26 binocular will be free of defects in materials and workmanship for the life of the instrument or it will be repaired for a token sum to cover shipping and handling. It's an excellent warranty.
| | |
| --- | --- |
| Configuration | 7X26 |
| Prism Coating | N/A |
| Field of View at 1,000 yd/m ft/m | 363/121 |
| Close Focus Distance ft/m | 7.0/2.4 |
| Exit Pupil (mm) | 3.7 |
| Relative Brightness | 13.7 |
| Eye Relief (mm) | 16.0 |
| Weight oz/g | 12.0/342 |
| Inter-pupillary Distance (mm) | 50-70 |