Jason Binoculars and Their Place in History
The Jason binoculars company got its start in 1947 when Jake Levin and his son Dick began importing binoculars from France. Demonstrating a diversity of interests, their imports also included pearls and cigarettes from the Orient. Their early optics customers included jewelry stores along with then popular catalog showrooms.
Although they started out as "Jake and Son," the name was soon shortened and formalized to "Jason" with headquarters offices in Kansas City, Missouri. Empire, which evolved as part of the firm's name, was a brand of products sold by the firm in its early years. Dick was the one whose vision promoted their binoculars and telescopes into a competitive force in the United States market for sports optics.
The Minneapolis, Minnesota, based Carson Companies, Inc., saw a future for Jason binoculars and bought Jason/Empire in 1977, although the Jason headquarters remained in Kansas City.
It was 1987 that the Jason Empire company introduced the InstaFocus design which was later to be termed "Perma Focus." This product's design was to eliminate the need for focusing and it was hoped to be a revolutionary development that the public would embrace. Around that time, Jason binoculars filed trademarks for the phrases "Never Needs Focusing," "No Focus," "Focus Free," "Self Focus," and "Constant Focus" to capitalize on the InstaFocus design.
Jason binoculars were one of the first to be marketed as "auto focus" binoculars. Their focus was permanently set at the factory for viewing activity at about 50 feet (15 meters) distance or more. They enjoyed some popularity for stadium and racing events, particularly in chilly weather. Jason's InstaFocus design was indeed popular with consumers briefly after its introduction and still has a number of strong supporters.
During 1992, the Bausch and Lomb company, which included the Bushnell name/organization as a division in its structure, purchased the Jason organization from Carson Companies, Inc., and moved it to Overland Park, Kansas. In the process, the division's name was changed from Bushnell to Bausch and Lomb Sport Optics Division. Bushnell sold Jason's auto focus design among its own product line offerings for a period of time.
Three years later, in 1995, the Sport Optics Division was bought up by Worldwide Sports and Recreation, Inc., a leading producer of sporting goods which gave an extension on life to Jason binoculars.
Since then, the Bushnell company has been bought again and the Jason brand name is no longer used with new Bushnell products. The term PermaFocus which was associated with the Jason binoculars sold by Bushnell, however, is still used with certain Bushnell models which are offered for sale today.
At the time of this writing, the Bushnell PermaFocus models
in the 10X42, 10X50, and 12X50 configurations which we considered had prisms made from BK-7 glass and the optics were "fully coated." If you're in the market for an auto focus binocular, you'll want to be familiar with those terms. Since there isn't a diopter-type focus adjustment for either of the eyepieces, you'll want to be familiar with how that may impact your viewing experience.
If you're looking for a good Porro prism binocular to replace an aging Jason/Empire instrument, you can bypass the information about finding parts or repairing a Jason/Empire and go directly to our recommendations. If you're looking for one of the popular roof prism designs, you'll want to check out the best binoculars page.
Is Your Jason Binocular Sticky?
We've heard from a number of readers who wrote to say that the previously enjoyable covering on the barrels of their Jason binocular had turned sticky. They asked "What can I do to remove the stickiness on my Jason binocular's barrels?!?"
If this is your predicament, we've not found an easy solution. However, it is possible to get rid of that sticky layer on most Jason binoculars by using some isopropyl, or "rubbing," alcohol, a clean cloth, and some elbow grease. Initially try it on a small spot in an area of the binocular where it won't present a problem if it doesn't work as expected. It's worth noting that it can be a bit messy by the time you're done and some have found it helpful to wear rubber or latex gloves for the job.
Need Parts or Repairs for Your Jason Empire?
We frequently receive inquiries about the possibilities of repairing a Jason Empire binocular with broken or missing parts. Often the inquiry is for an instrument which hasn't seen much use and is in new or nearly new condition other than the damaged or missing part. After a number of such inquiries, we started asking optical repair technicians whose skills and abilities we value and respect if there might be a particularly good approach to repairing these once popular binoculars after they've been damaged in one way or another.
The response was fairly uniform: while there are a fair number of Jason Empire units still around, the lack of replacement part availability and quality of the instruments' original construction make repairing them difficult. Usually the cost of repairs is more than the binocular is worth, no matter its condition.
Jason Advertisement from 1982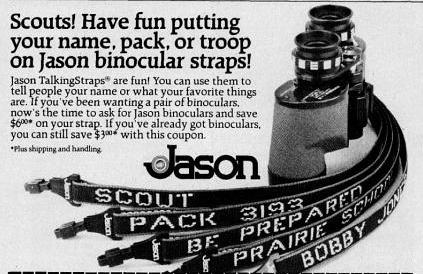 If you have a Jason binocular of sentimental significance to your family that has suffered damage or loss of a part, you may find it worth the price to have it repaired.
Since new parts and accessories such as lens covers are no longer available for Jason/Empire binoculars, the most economical means of replacing a lost or damaged part would be to purchase a used, similar Jason/Empire model. If we were looking for an eyecup, lens cover, or other part or accessory, this is where we would look.
Unfortunately, used Jason Empire binoculars are not as plentiful as they used to be and many are finding it difficult to impossible to find a match for their instrument. If a similar model can't be found, it may be necessary to have one or more parts custom-machined to restore your binocular - significantly increasing the cost of repair in many instances to the $200 to $250 range.
If you're interested in information about when your instrument may have been manufactured, we have found it very difficult to locate data to narrow the manufacturing period more than what we've provided above, but have found that finding dated advertising for your particular model may be the easiest route to follow. (Such advertising can sometimes be found in older outdoor magazines - you might try searching Google's scanned books and magazines.)
If you're interested in the present value of a Jason/Empire binocular, it's been our experience that those in new or nearly new condition typically sell in the $10 to $30 range at auction.
If you can borrow a newer binocular from a friend or relative to try for a few days, you may be pleasantly surprised to see the results of improvements in binocular optics which have taken place over the last five or so years. We've had very enjoyable communications from individuals who have updated their binoculars and are gratified by how much more they're able to see ("And the details!" is a common expression).
If you'd simply like a good binocular, we recommend considering something a bit newer, such as the Vortex Diamondback binocular for about as much as you'd be likely to spend repairing your Jason with custom-machined parts at today's prices. The Diamondback's glass is fully multi-coated and its prisms are made of BaK-4 glass. We think you'll be pleased to find your view with the Diamondback will have greater detail and contrast when compared to what you may have become accustomed to with the older Jason optics or what you might experience with something made with lesser quality components.
As much as we enjoy the intimacy of a close-up view of a distant object or animal provided by good optics, we hate to see anyone go without a good binocular! Finally, you'll find that the major advances in optics over the past four to six years will give you an incredible view as compared to what you were able to see with the venerable Jason/Empire models.
Recommendation
If you're looking for an inexpensive binocular for infrequent use, you may find that the Bushnell PermaFocus models
satisfy your needs. Unfortunately, the "one size fits all" optical approach required by an auto-focus design isn't well tolerated by many people.
If you're looking for a reasonably priced binocular with good optics and a durable build, we recommend the Leupold Yosemite binocular as a best buy. (We'll tell you all about the Yosemite through our full, hands-on review.)
If you've enjoyed one of the larger configurations, such as a Jason 7X50, we recommend considering Nikon's Action EX models as providing a similar experience at very good prices. (Check our review.)