Leupold Yosemite Binoculars - Potent Optics and a Best Buy?
December 2011
When we bought one of the BX-1 Leupold Yosemite binoculars
, our schedule didn't allow us to do much more than read what it said on the outside of the box. In fact, things were so hectic that we weren't even able to take the plastic covering off the box until about two weeks later. (It's terrible, but it's true!) But, when we did, we were delighted with the quality of both the view and construction provided at the Yosemite's price point.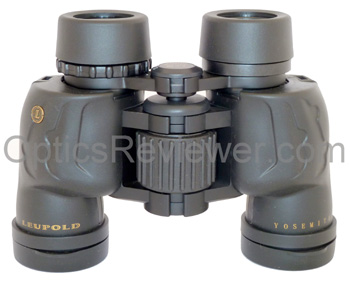 Finally, we got them out of the box and inspected them. We'd paid good money for them based on a hunch and some tidbits we'd heard about them. For first impressions, they looked small and they weren't very heavy at all. Whether true or not, we'd been given to understand that the designers had put together the Leupold Yosemite binoculars as first binoculars for young people to use. The grapevine gave some plausible reasons for the Leupold Yosemite to be a "first binocular": the small size and light weight, the interpupillary distance being adjustable for smaller faces, the 6X magnification wouldn't cause blurring by magnifying unsteady hand movements, and so on.
As we prepared to review BX-1 Leupold Yosemite binoculars' 6X30 configuration, we were frankly prepared for a binocular which was serviceable, but didn't necessarily have the quality of optics to be taken seriously. We felt we had appropriately adjusted our expectations in anticipation of what we were going to be testing. This was notwithstanding the fact that the quality of rubber in the rain guard and objective lens covers was very good and the quality of the twist-up/twist-down eyecups was better than we've seen on some much more expensive instruments. The North American expression about "putting lipstick on a pig" came to mind.
The day after we finally got them out of the box, we headed to a nearby park for a bit of relaxation. It's a park with a lake and it's home to waterfowl, turtles, beaver, white tailed deer, foxes, and other wildlife. It's particularly fun since we never know what we'll see. We nearly always take a couple of binoculars or more with us when heading into the outdoors and this time we included the little Yosemite. At the park we branched off on a secondary footpath through a stand of hardwood trees where we thought we might find a few white tailed deer resting.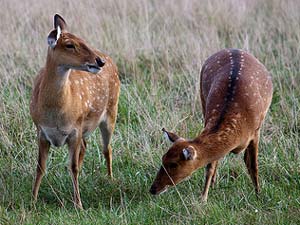 Picture by: Ben Sanborn
We did indeed see deer. We were so interested in seeing the performance of the little Leupold Yosemite binoculars that we didn't notice for several minutes that we were looking at an entirely new type of deer to us! We found ourselves looking eye-to-eye with a family of sika deer - actually a small relative of the elk family which was introduced into the United States in the early 1900s, apparently from a small island in southern Japan according to recent genetic testing.
We were dumbfounded by the quality of the diminutive BX-1 Leupold Yosemite binoculars! They were THE popular item as they were passed within our group! Leupold says that the Yosemite binoculars, along with 4 other models, were re-designed, re-engineered, and re-produced for 2011 by a dedicated team of 21 designers, engineers, production personnel, and quality control specialists and they call it "Synergy Built." We understand it's a significant update to the former "Green Ring" Leupold Yosemite binoculars, however we didn't have one of the Green Ring Yosemite binoculars and consequently can't say how the BX-1 compares to the older model.
Shall we get on with this review and tell you what we found?
The Leupold Yosemite Binoculars' Design, Body, and Accessories
Chassis
The size and weight of the Yosemite binoculars were a couple of the first things our attention focused on. The 6X30 configuration we tested (it also comes in an 8X30 configuration) stood only 4.6 in/117mm tall (the 8X30 is even a bit smaller) and weighed only 17 oz/482g. It's as light as many compact binoculars and doesn't take up much more room. It's small and light enough that we found ourselves using it with one hand and focusing with thumb and forefinger. (We'll talk about the optics that support using it that way later.)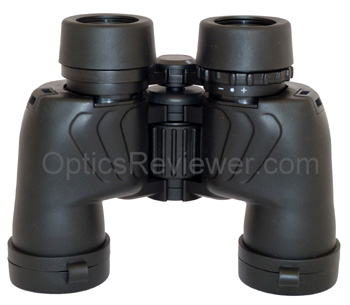 While we don't typically perform any destructive-type tests of durability on precision optical instruments, the Leupold Yosemite binoculars feel rugged in the hand and likely to survive youthful handling with ease. The hinge does not appear to have provision for accepting a tripod adapter and the 6X unit we tested didn't seem as though it would benefit from it. If you find a need for a tripod adapter with a Yosemite, we suggest using the Nikon Binoc-U-Mount Universal Tripod Adapter
and with a bit of padding to hold the instrument snugly. That's what we typically use for binoculars that don't have provision for using a standard tripod adapter.
The Leupold Yosemite binoculars are rubber armored as are many binoculars. It should be noted that the rubber armoring is not what waterproofs the instrument, but is only applied to the outside of the binocular to help protect it against minor bumps and scrapes. The new Yosemite BX-1 is available in five colors: black, natural (a tan or beige), mossy oak break-up blaze, mossy oak break-up pink and mossy oak treestand.
Are they Waterproof/Fog-proof?
You'll have noticed from the pictures that the BX-1 Leupold Yosemite binoculars use the Porro prism design. Like us, you're probably accustomed to thinking of only roof prism design binoculars as being waterproof and internally fog-proof. You may be surprised, as we were, to find that Leupold has waterproofed the little Yosemite binoculars. Not only have they waterproofed them, they've also purged the air from the inside of the binoculars using nitrogen gas to remove the air molecules laden with moisture that can cause internal fogging of the lenses. This has been a historical problem with this type of binocular because of the center focus mechanism made necessary by the Porro prism design. In our opinion, it doesn't matter if this is going to be a "child binocular" or not, it's generally a good idea to make it waterproof!
The Eyecups and Eye Relief are important - what about them?
We spoke of the eyecups briefly above, but they deserve a few more words. The eyecups are of better quality than those we've found on binoculars priced in multiples of the Yosemite's price. They have settings for extending them midway and fully. Where they shine is in ability to stay at either setting. We like them.
The BX-1 Leupold Yosemite binoculars boast a generous eye relief of 18.5mm for the 6X30 configuration and 15.5mm for the 8X30. We'd typically expect this to accommodate most eyeglasses.
Center Focus Adjustment
The center focus wheel moves with significant resistance. We've heard thoughts about why this might be which range from keeping exited, youthful fingers from adjusting the focus too much/too fast, to it being caused by the tightness of the waterproofing seals, to the stiffness of the lubricant.
While the focus adjustment isn't as smooth as you'd expect on a higher priced model made strictly for adults, we think it's just about right to help young fingers keep from wearing it out prematurely by simply fiddling with it. We did notice that the first time or two that we used the Leupold BX-1 Yosemite, there seemed to be one or two spots where the focus wheel seemed to stick and require a bit of effort to get past. We noted that this lessened in the first day or two of use. After the first day or two, if we didn't use the instrument for a day or more it would have a bit of resistance in one or two spots, from close focus to infinity, for the first couple of focusing efforts before settling in for relatively easy focusing. After using the Yosemite for an hour or so, we felt quite at ease with the amount of the focus wheel's resistance. We also noticed a little bit of popping noise while focusing that reminded us of air bubbles in lubricant - but it didn't seem to affect performance.
Something else that we value is a fast focus. We consider this to be the ability to go from close focus to infinity in about a full rotation of the focus wheel. This makes it much easier to watch activity that requires frequent adjustment for distance. You may be able to imagine our pleasant surprise when we found the Yosemite 6X30 to go from close focus to infinity in about three quarters of a full rotation of the focus wheel! And this is accomplished without reducing the ability to achieve a fine focus.
Where are they made? When looking over our Leupold Yosemite, we didn't find anything on the binocular, on the box or in the binocular guide included in the box to tell where they were made.
What's the Optical Configuration and How is the Performance?
The Yosemite's Generous Field of View
The BX-1 Leupold Yosemite binoculars boast an impressive 8.0° (7.4° for the 8X30) angular field of view which appeals to our yearning for a wide field of view! This means they enable monitoring a wide 420ft/140m at 1,000yd/m and that, in turn, means they're very forgiving of minor hand movements as far quality of viewed image is concerned. It's a significant benefit and shows thoughtfulness on the part of the designers. Anyone having a problem "finding" an active bird or other quickly moving wildlife, car/horse on a race track or passed football, etc, will need a better excuse than blaming it on the instrument!
While the wide field of view is terrific for everyone, it's particularly nice for youngsters who've not yet developed fine motor skills or those of us for whom health has reduced our steadiness of hand.
How Large is the Optical Sweet Spot?
All optics have a "sweet spot" in the center of the field of view and images appearing in the center are those which we, in keeping with human nature, typically focus on with the optics. The further from that center, sharply-focused area you try to look, the less likely the image is to be sharply focused and the more likely details are to be blurred.
You may be able to understand that we were willing to accept that optical corners had been cut to produce the Leupold Yosemite binoculars at a cost that would allow them to sell for about $100. Just to make it more difficult (or more interesting, depending on your perspective), less expensive wide angle optics often achieve the wide-angle view by optical compromises which make the full field of view significantly less than useful. Given this background, perhaps you can imagine how surprised we were to find that when about 75% of the field of view was in sharp focus, the rest of the field was NOT significantly blurred and was actually very useable! This level of optical quality is not usually found in instruments in the Leupold Yosemite binoculars' price range! (The blurring around the periphery is so minor that you'll not likely notice it in the field.)
The prisms in this Porro design are made from BaK-4 glass. One of the reasons you'll find that we typically recommend against binoculars costing less than $100 is because the manufacturer has to cut corners to produce them at that price and one way is to use inferior BK-7 glass for prisms. Another way of cutting costs is by only providing "fully coated" or "multi-coated" optics. The Leupold Yosemite binoculars provide fully multi-coated optics which, along with the quality of the glass components, would largely be responsible for the crisp, clean, clear and well-contrasted view.
Why would this binocular provide such a good view? While we didn't expect to learn any proprietary information, we queried the folks at Leupold and were told that they put a great deal of attention on the quality of glass in their optics. We won't argue with success!
The Yosemite's Exit Pupil and What it Means
With an exit pupil of 4.6mm for the Yosemite 6X30 configuration, you'd expect it to provide a bright view and it does. This is good for all of us, but excellent for youthful users whose pupils dilate further in low light than they do when we get older. The brightness provides for greater observable contrast and detail and at least the perception, if not the fact, of a clearer images. Coupling the brightness' benefits with the full multi-coating provides the view that had us vying to use this binocular when watching the sika deer on our first real outing with the little Leupold Yosemite binoculars. On subsequent outings we found ourselves reaching for the Yosemite as often as not, which speaks very well of the view and particularly when considering that we usually had much more expensive binoculars with us!
Chromatic Aberration
We were surprised at the color neutrality exhibited by this instrument's optics. We did not discern a noticeable color bias in the instrument we were testing. Further, we were intrigued by the fact that we were not able to induce chromatic aberration when viewing dark branches, for example, against a clear and bright sky. The lack of chromatic aberration also contributes to the Yosemite's resolution of details. While Leupold doesn't say anything about whether or not it uses aspheric lenses in the Yosemite, we can't help but wonder if it does!
Using the Yosemite Binoculars in Strong Light
We expected to notice significant problems from stray light bouncing around inside the binocular's barrels at this price point and with the barrels so short as to not allow for much baffling to control it. We were surprised, again, to find that we were able to look at tree branches against a clear, bright sky with the sun shining brightly at perhaps 25-30° off axis from us without noticing significant light problems. With the Yosemite passing these tests of what might be commonly encountered, we thought to press the issue and took them out in the early morning light to see what might happen when they encountered light reflected off the thin ice of a nearby small lake. In this setting, we found that the light reflected from the ice produced glare when looking across the lake in the direction of the rising sun.
When viewing bright parking lot lights at night, we found that the Yosemite binoculars exhibited only very modest spiking - certainly within acceptable limits.
Something else that we didn't notice is also noteworthy and that's chromatic aberration. Incredible! We were impressed!
How Close is the Yosemite's Close Focus?
Leupold says that the 6X30 Yosemite has a close focus distance of 10.0ft/3m. When we checked the close focus of our instrument, we found it was just 9.0ft/2.7m and well within the specified distance.
The Yosemite's Diopter Adjustment
The diopter adjustment is a ring located below the right ocular. It moves very stiffly and seems unlikely to be accidently moved out of adjustment in normal use. The stiffness of adjustment is a feature since the ring does not lock in place when set. We suspect you'll find that it takes an adult to assist the youngest of junior explorers in setting their diopter adjustment. While we generally prefer a locking diopter adjustment, at the Yosemite's price point we feel Leupold's level of stiffness is an acceptable approach.
The Yosemite's Porro Prisms and their Three-dimensional Effect
Perhaps because we often find ourselves using roof prism binoculars due to their light weight and durability, the three-dimensional effect of the Porro prism design was forcibly brought to our attention with the BX-1 Leupold Yosemite binocular. It's a delightful and impressive optical perspective and this instrument is renders it very well.
What Comes in the Box?
Yosemite's Case and Incidentals
Also included in with the BX-1 Leupold Yosemite binocular is a soft case (it feels as though it's made of neoprene) with Velcro closure, a soft (neoprene again?) neck strap that's about 1.25 in/35cm wide before attaching to the nylon that goes to the binocular's lugs, a lens cleaning cloth, a binocular guide in English, French, Spanish, German and Italian languages, and a warranty registration card.
When folded in half, the neck strap's wide portion (which goes around the neck) is about 14.5 in/37cm long before attaching to the nylon straps which will fasten to the binocular. For the very youngest explorers, this may be longer than necessary. An easy work around would be to adjust the wide portion of the neck strap by overlapping it and running a few stitches through to keep it from giving way. Otherwise, we suggest setting the Leupold neck strap (it's a nice neck strap) aside until the youngster has grown into it and use a shorter alternate from an optics dealer.
The Quality of the Rain Guard and Lens Covers
The rain guard and covers for the objective lenses are of the quality of rubber which we would normally expect to see on a binocular priced at about $400-500 and above. They're soft enough and have enough friction to stay on during normal handling, yet they're hard enough to feel durable. The quality in this area is nice touch by Leupold.
Our Recommendation Regarding the Yosemite Binoculars
The BX-1 Leupold Yosemite binoculars are an exceptional value - the best quality, low-priced binoculars we've seen in quite a while. In fact, we feel they represent a "best buy" in their price category at about US$100. If you're looking for an economy instrument for your first binocular, take a good look at this one. If you have expensive binoculars, you probably ought to consider getting this one as a cost-effective backup. Those looking for a child's bird watching binocular will want to get one of these. If all your other binoculars have an angular field of view of 6.0° or less, you owe it to yourself. If you're involved in Neighborhood Watch activities — ah, you probably get the idea.
We happen to think the main reason for reviews is to be as helpful in getting the best value for money spent possible. We've typically found the prices at Amazon.com
to be the lowest on the internet.
The Yosemite is covered by Leupold's Lifetime Limited Warranty. Leupold warrants to the original owner that the product will be free of defects in materials and workmanship and to perform satisfactorily under normal-use conditions. Under this warranty, Leupold will repair or replace, at its option, any instrument found to have a defect in its materials or workmanship for as long as you own them. It's a solid warranty.
| | | |
| --- | --- | --- |
| Configuration | 6X30 | 8X30 |
| Dielectric Prism Coating | No | No |
| Field of View at 1,000 yd/m ft/m | 420/140 | 389/130 |
| Close Focus Distance ft/m | 10.0/3.0 | 11.0/3.4 |
| Exit Pupil (mm) | 4.60 | 3.40 |
| Relative Brightness | 25.0 | 14.1 |
| Eye Relief (mm) | 18.5 | 15.5 |
| Weight oz/g | 17.0/482 | 17.0/482 |
| Inter-pupillary Distance (mm) | 50-70 | 50-70 |