Leupold Cascade Binoculars - Solid Value Optics?
December 2011
The Leupold Cascade binoculars
have a lot of people interested in them and looking for an objective review of their construction and performance. Naturally, we elected ourselves to be the ones to buy one and see just why there is so much interest in it! Without hesitation, we ordered a 10X42 Cascade to put through its paces. We found it to provide a good view of details in its category, a somewhat smaller field of view, and that it was about average for the brightness of its field of view in its category, among other things.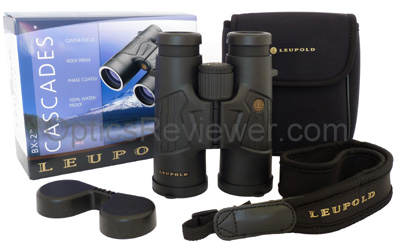 Actually, the name that Leupold has formally assigned to it is the plural "Cascades," but we find ourselves lining up with the majority of folks who seem to say "Cascade." We hope the nice people at Leupold will forgive us for writing about the Cascade and that you will, too! Human nature being what it is, you may find us switching back and forth between the two and for that we apologize in advance.
We understand that the Leupold Cascade binoculars were subject to what Leupold calls "Synergy Built" and new for 2011. This is from the synergy developed by a team of 21 of the firm's engineers, designers, quality control staff, and production people whose objective was to "completely re-think, re-design, re-engineer, and re-produce" this and 4 other binoculars. Leupold says that the commission for these individuals was to re-consider the specifications, the drawings and models, sourcing of components, and production of the final, assembled instruments. Unfortunately, your OpticsReviewer.com team didn't test the Leupold Wind River Cascades, so we can't say how the BX-2 Cascades differ from them.
Shall we get on with this Leupold BX-2 Cascades review and tell you what we found?
The Leupold Cascade Binoculars' Design, Body, and Accessories
Chassis
We found these roof prism binoculars' central hinge design convenient and comfortable to use. This hinge design has proven itself through time and difficult conditions and we felt good when we saw it. Its provision for a tripod adapter seems more rugged than alternative hinge designs and is accessible after unscrewing the plastic plug on the front of the hinge.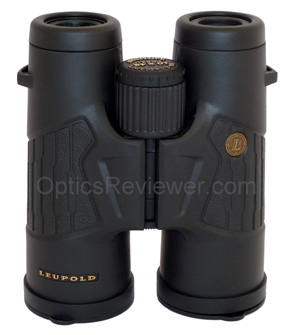 A contact at Leupold assured us that the Cascades' chassis is magnesium — a material known for its lightweight durability and often used in race cars and the like for weight reduction. At about 1.5 lbs/650g, the Leupold Cascade binoculars are light enough for most to carry for extended periods without undue fatigue. Their balance to be such that we didn't notice anything unusual when carrying them out and about for extended periods and that's a good sign. Binoculars that are front-heavy or back-heavy can make you miserable before the end of the day if you're using them frequently or observing wildlife from a blind/hide and holding them to your eyes for extended periods.
The hinge has provision on the front of it for tripod mounting using an optional adapter with quarter-inch threading. We consider using a tripod or car window mount to be well worth the money and effort for 10X and stronger magnifications. A mount holds the optics much more steadily than a human hand normally can and thus eliminates a major cause of blurred views. Naturally, most of a person's binocular use will be handheld, but some kind of mount is essential for those occasions when you really want to see as much observable detail as reasonably from your optics.
The instrument is rubber armored with your choice of black or mossy oak and, while it doesn't provide waterproofing, it does help to protect your precision optical instrument from minor bumps and scrapes. It also serves to make the instrument easier to handle in cold weather or with wet hands.
We found our test Leupold Cascade binoculars' overall build to be of a high quality and were impressed with it.
The Cascades are Both Waterproof and Fog-proof
The Leupold Cascade binocular is waterproof and has had the potentially moisture-laden air molecules purged from inside the barrels by replacing the air with dry nitrogen gas. This also serves to make the instrument internally fog-proof (no more moisture inside it), but doesn't mean that you'll not fog the outside lens surfaces if going from cool, dry air to warm, humid air. Our cool weather adventurers will still find that putting cold ocular lenses up to their eyes will cause them (the lenses!) to fog briefly, but these are both instances of the exterior surfaces fogging and not the more inconvenient, troublesome and potentially costly interior fogging.
How about the Eyecups and Eye Relief?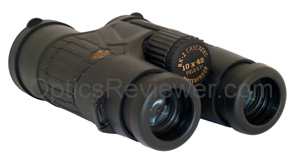 The eyecups on the Leupold Cascade binoculars are a cut above the average twist-up/twist-down eyecups because they lock securely in the extended position. We've had some that would stay put, but didn't lock securely and those of us who like to push the eyecups up against our eyes to help steady the view have been left wondering if they were going to retract unexpectedly on us! None of us had any problems with the Leupold Cascades' eyecups feeling as though they were going to collapse. There isn't an intermediate step with the eyecups, they're either fully up or fully down, but this didn't pose a problem during our testing and we found the eye relief comfortable.
Eye relief on the 10X42 configuration we tested was 16.0mm and that's likely to be acceptable for most eyeglass wearers.
Focusing the Cascades
The center focus wheel on the Leupold BX-2 Cascades binoculars is smooth and easy to adjust with our index fingers seeming to rest on it quite naturally. Focusing was easy with the wheel moving smoothly and with uniform resistance from close focus to infinity.
Surprisingly, since we found nearly everything else to be close to ideal, the focus wheel took two complete rotations to go from close focus to infinity. We were surprised by this. We prefer a fast focus since, in situations where we're quickly changing our view from a closer range to a significantly more distant one and then back many times over a period of several hours, we find a slow focus quite fatiguing, particularly when watching active birds or keeping track of other moving animals. (We define a fast focus as one in which an instrument goes from its close focus setting to infinity in about one full revolution of the focus wheel.)
Since it seemed quite strange for a binocular manufacturer of Leupold's standing to make a binocular with such a slow focus, we dug a bit deeper. We found that a quarter revolution took us from close focus to 10ft (3.0m), a full revolution of the focus wheel took us from close focus to 20ft (6.1m) (or an additional 10ft/3.0m for three quarters of a revolution) and the second revolution then took us from 20ft to infinity. Particularly for birders, depending on your perspective, this may provide an interesting combination of two worlds — it allows for fine focusing on nearby birds or insects while still providing a good speed for distances between 20ft and infinity.
Where are they made? When looking over our Leupold Cascade binoculars, we found "made in Japan" prominently displayed on the underside of the hinge.
What About the Cascades' Optics?
How Big is the Cascades' Field of View?
The field of view for the 10X42 instrument we tested was just 267ft/89m at 1,000yd/m or a 5.1° angular field of view. We like a wide field of view so we're able to keep track of a good bit of activity without missing anything and we felt that our test instrument was a bit limited in this area. The angular field of view is more generous for the 7X42 and 8X42 configurations at 7.4° and 6.5°, respectively (see table below for linear measurements).
We Tested the Cascades' Optical Sweet Spot....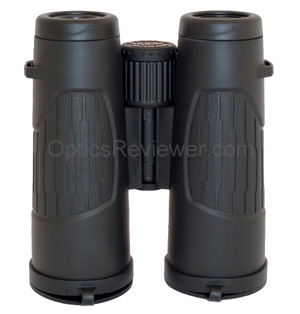 The center of the field of view through any optics is, through our human nature, the area to which we pay the most attention. It's also the area which we naturally focus for the sharpest, clearest resolution of details. Outside of that central "sweet spot" we usually don't notice much when we're using handheld binoculars. When we use a tripod-mounted binocular and move our eyes to change our focal point instead of moving the instrument, we notice much more quickly just how much of the field of view is actually useable. In the case of our Leupold Cascade binoculars we found that approximately 95% of the field of view was in sharp focus and, surprisingly enough, the last 5% around the view's periphery was still distinct and without significant blurring. This is very good optical performance.
As would be expected for new roof prism binoculars sold today, the Leupold Cascade binoculars use a phase correction coating and are made of BaK-4 glass.
What to Expect from the Exit Pupil
The exit pupil of 4.2mm is good for overall light transmission and we found the view to be reasonably bright and with good contrast, although the silver alloy prism coatings, which we understand are used, won't be as bright as a dielectric coating would be. It is no doubt well assisted by the fully multi-coated optics.
Color Fidelity and What about Blurring at the Edges?
We were pleased at the color neutrality exhibited by this instrument's optics. We did not discern an unnatural color in the instrument we were testing, although if one strains it may be possible to see a very slight yellowing of the view - perhaps due to what we understand is a silver alloy prism coating used in the Cascades. When looking for chromatic aberration, we were able to induce a purple or blue/violet edge by viewing dark branches against a clear, bright sky. We did not measure the possible effect of chromatic aberration on the optic's resolution of detail, but found the resolution very good in testing as well as in the field.
Using the Cascades for Viewing in Strong Light
The Leupold Cascade binoculars didn't seem to be significantly bothered by stray light bouncing about the inside of the barrels when using it in strong light. We did notice a very small amount of glare when looking across water in the direction of the rising sun, but it was small enough so to almost be not worth mentioning. This reason for this would be the design of the baffling visible in the binocular's interior when looking through the objective lenses. This designers deserve high marks for this optical benefit, since stray light can be a real bother when you're trying to use a binocular near water, snow, or other reflective surfaces.
When viewing bright lights illuminating a parking lot at night, we found that our Cascades demonstrated good control of light spiking at their price point. Some optics will display strong, multiple spikes from such lights against a dark, night sky background. We felt comfortable with what we saw with the Leupold Cascade binoculars' performance.
How Close do the Cascades Focus?
Leupold says that the 10X42 Cascades have a close focus distance of 9.9ft/3m. When we checked the close focus of our instrument, we found it was 9.5ft/2.9m and well within the specified distance.
The Cascades have a Locking Diopter Adjustment at the Focus Wheel
The Leupold Cascade binoculars don't use a ring by the right eyepiece to adjust the diopter setting as do many other binoculars at their price point. Instead, the diopter adjustment is achieved by grasping the end of the focus wheel and pulling out gently. The top of the focus wheel "pops" up and can then be turned to change the diopter adjustment before pushing it back in to lock the setting. This is a design element often reserved for top-end binoculars and is a very nice touch by Leupold. An aspect that caught us by surprise was that it was the left barrel that was adjusted instead of the right one on the first Cascade we used. The one we bought for this review, however, adjusted the right barrel, as is common with other binoculars. It's not a big thing — just remember to check which barrel is getting adjusted!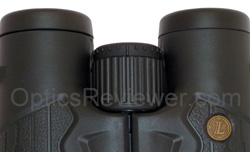 What Else do you Get?
Of course, the Case, Neck Strap, etc...
Also included in with the BX-2 Leupold Cascade binocular is a soft case (it feels as though it's made of neoprene) with Velcro closure, a soft (neoprene again?) neck strap that's about 1.25 in/35cm wide before attaching to the nylon that goes to the binocular's lugs, a lens cleaning cloth, a binocular guide in English, French, Spanish, German and Italian languages, and a warranty registration card. A nice touch with the neck strap is that there's a bit of give to it. We think that would be nice on longer hikes, for instance, to reduce strain on neck muscles sometimes encountered by hanging something around the neck.
Quality of the Rain Guard and Lens Covers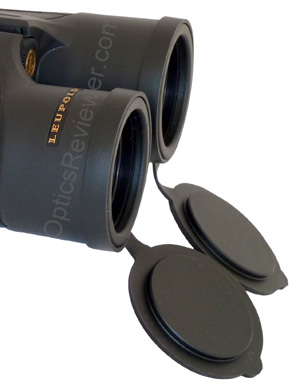 The rain guard for the eyepieces is made of stiff plastic, but it settles down comfortably over the top of them so that it doesn't seem to come off unexpectedly and the bridge flexes enough that it doesn't affect their fit. The Leupold Cascade binoculars' push-on objective caps are made of a similar material (ours felt a bit more like rubber than the rain guard's material, though) and they have a ridge that fits into a groove in the inside of the barrel, just ahead of the objective lenses (please see picture). We assume that this has been tested extensively by Leupold and has been found to work satisfactorily. Perhaps it doesn't split as easily as a rubber that fits over the end of the barrel, but we found it a bit more awkward than rubber lens covers and wondered about their durability over time. If you find that these caps wear to the point that they no longer stay in place, would you send us a note through our contact page? We're interested in learning about the long-term, too.
What's Our Recommendation for the Cascades?
The BX-2 Leupold Cascade binoculars have a lot going for them. Notwithstanding an area or two where we thought some improvement might be made, we like them overall as general use, hunting, etc, binoculars. (Bird watchers may want something just a bit brighter and with a wider field of view.) In considering both the optics and the quality of the build, we feel comfortable recommending the Leupold BX-2 Cascades binoculars.
The Cascades are covered by Leupold's Lifetime Limited Warranty. Leupold warrants to the original owner that the product will be free of defects in materials and workmanship and to perform satisfactorily under normal-use conditions. Under this warranty, Leupold will repair or replace, at its option, any instrument found to have a defect in its materials or workmanship. It's a good warranty for a good product.
For your convenience, here's a link directly to the Cascades selection at Amazon.com
.
We included the Leupold BX-2 Cascades in a comparison with other binoculars in the same price range. Those wanting to get the best optics for their money will want to see our Leupold BX-2 Cascades comparison article.
| Configuration | 7X42 | 8X42 | 10X42 |
| --- | --- | --- | --- |
| Dielectric Prism Coating | No | No | No |
| Field of View at 1,000 yd/m ft/m | 389/130 | 341/114 | 267/89 |
| Close Focus Distance ft/m | 9.9/3.0 | 9.9/3.0 | 9.9/3.0 |
| Exit Pupil (mm) | 6.0 | 5.25 | 4.20 |
| Relative Brightness | 36.0 | 27.6 | 17.6 |
| Eye Relief (mm) | 18.0 | 18.0 | 16.0 |
| Weight oz/g | 22.9/649 | 22.9/649 | 23.1/655 |
| Inter-pupillary Distance (mm) | 58-72 | 58-72 | 58-72 |