Nikon Monarch 3 vs Sightron SII Blue Sky Comparison
August 2013
What prompts this Nikon Monarch 3 vs Sightron SII Blue Sky comparison? When we bought and tested our Monarch 3 binocular
, we thought it was a pretty good one in its category. We still think it is. And when we bought a Sightron SII Blue Sky
10X42, we were interested in comparing them to see which might be a better value! It's a fair enough question and a lot of us, including you, dear reader, are interested in finding the best optics for our money. This is the article that will tell you what we found when we compared these two binoculars.
If you've already read another of our comparison articles, you probably already know this. It's only fair to warn you that when we write a comparison article, you may be cheated out of significant enjoyment if you base a binocular purchase on only a comparison article! Why is that, you ask? The reason is because we leave out those things we think are not noteworthy to the comparison — even if they're important by themselves and are included in our reviews of the individual binoculars.
We've enough of an introduction now, so let's go ahead and dive into the comparison!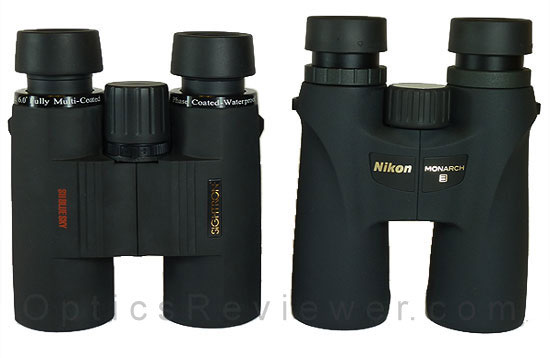 Sightron SII Blue Sky and Nikon Monarch 3
The Monarch 3 vs Sightron SII Blue Sky — Build Considerations
About the only difference between the two binoculars from simply their outside appearance and feel is the Monarch 3's lack of thumb indentations in the rubber armoring on the bottom of the barrels. Is that significant? For some folks, yes it is. We don't have a hard time getting a long without a specific place to put our thumbs or putting our thumbs somewhere other than the places reserved for them — but that's just us.
How do Their Frames Compare?
Nikon has been providing polycarbonate frame binoculars long enough to have gotten good at it. We like a number Nikon binoculars and haven't had problems with any of the polycarbonate ones we've used, but we probably treat ours a bit more gently than some. Our optical technician friends tell us that, while it depends on the nature of the problem, it's often easier to work on binoculars with metal frames.
In the case of the Nikon Monarch 3 vs Sightron SII Blue Sky binoculars, the Monarch 3 chassis is polycarbonate and the SII Blue Sky frame is aluminum. Will this determine your choice when comparing the two instruments? It may be a factor, but we suspect that your choice will be based on a number of factors all working together.
Eyecups and Eye Relief
We liked the Monarch 3's eyecup detents better because with them it was easy to determine when they were set at an intermediate height. The "action" of the detents with the Sightron SII Blue Sky's eyecups was softer and it wasn't as easy to tell if we were at an intermediate height or in between detents.
The eye relief with the Monarch 3 was a bit more generous at 17.4mm as compared to the SII Blue Sky's 15.3mm. This may or may not be a deal breaker for some eyeglass wearers, depending on their individual situations. The 15.3mm will be entirely satisfactory for many eyeglass wearers, but not necessarily all.
Focus Wheel Comparison
The Sightron's focus wheel had a bit more resistance than the Nikon's and from what we've heard from others, that's likely to be consistent across a broad sampling of each respective binocular. Whether a person wants a wheel with some resistance or one that rolls easily beneath the forefingers is typically a matter of preference. While we tend to adapt fairly quickly to whatever binocular we may have at hand, we understand that it may not be so easy for everyone and that's fine. The matter of the focus wheel speed is more of a sticking point for most, from our visits with other optics enthusiasts.
If we were to make a choice in the Monarch 3 vs SII Blue Sky comparison based only on the speed of their respective focus wheels, we would not hesitate to go with the Sightron model.
While we found the Nikon Monarch 3's faster focus wheel (about 1.25 revolutions from close focus to infinity) to be quite friendly in good daylight, it became significantly more difficult to achieve a good focus in low light conditions. It didn't feel as though it was sticking and we were at a loss to understand why this might be — unless it related to the instrument's depth of view. This was of particular interest to us since we typically prefer a focus wheel which goes from close focus to infinity in about one full revolution.
We're not losing sight of the SII Blue Sky binocular's slow focus at about 1.75 revolutions from close focus to infinity and the workout it would give fingers during the course of a day of varying focus distances. We think, though, that it would be preferable in most instances to wear out our fingers as opposed to missing a view.
Where are They Made?
Some believe that where a binocular is manufactured gives an indication of its quality. While that may have been true in the past, it's a stereotype that's rapidly losing ground. The present day determinant of quality lies a binocular's engineering and in the company's quality control processes — not the country of origin.
The Sightron SII Blue Sky we bought to test was made in the Philippines and our Nikon Monarch 3 was made in China.
Optical Configuration and Performance
In this Nikon Monarch 3 vs Sightron SII Blue Sky comparison we found that, while these two binoculars have many of the same features, they don't necessarily all add up to the same result.
It's true that they both have phase correction coatings, are fully multi-coated, use BaK-4 glass for their prisms, and both have a silver alloy reflective coating applied to their prisms.
Under those circumstances, it was interesting to us that the Sightron SII Blue Sky we tested didn't show the amount of warm (yellow) bias in viewed images that the Monarch 3 did. While some feel they can discern a warm bias in the Blue Sky binocular, it's generally agreed that it's slight and not likely to be evident to most users. For all practical purposes, however, the two binoculars were comfortably similar in their optical performance in good daylight.
Field of View — Nikon Monarch 3 vs Sightron SII Blue Sky
The SII Blue Sky's 361ft (121m) compared quite favorably to the Monarch 3's 299ft (100m) field of view in our 10X42 configuration test instruments. Our regular readers may smile as they read this, knowing our penchant for a wide field of view!
If you've ever missed seeing something particularly interesting or exciting because your binocular had a narrow field of view (sometimes unflatteringly referred to as being similar to looking through toilet paper tubes) while a nearby friend is regaling you with details of it, you'll understand our fondness for a wide field of view! We would prefer that you would be the one telling about the view rather than the one who missed it.
Resolution of Details
In good daylight, these two binoculars were pretty much comparable in their resolution of details. It was before and after good daylight that the difference was apparent.
Low Light Viewing
In low light viewing, the SII Blue Sky binocular came into its own as compared with the Monarch 3. Our SII Blue Sky turned in a better performance in low and very low light conditions provided much better detail and a significantly brighter image to our eyes.
We perceive that this is likely due to a combination of the four layers of "phased silver" alloy reflective coatings on the SII Blue Sky's prisms as well as the quality of its anti-reflective coatings on glass surfaces.
Glare Observed While Using in Strong Light
Since this is an area that can justifiably affect a person's decision for or against a particular binocular, we felt that the SII Blue Sky turned in a better performance in controlling strong light during the day. We did not feel that one had a significant advantage over the other in viewing bright lights at night with our two test instruments.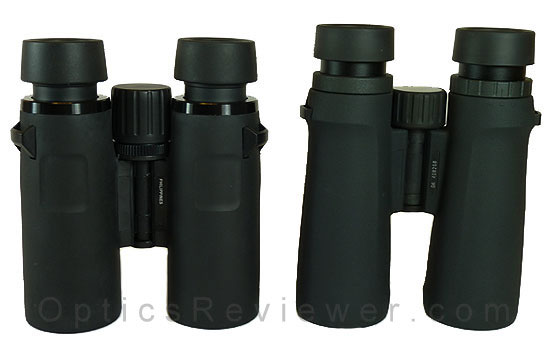 Sightron SII Blue Sky vs Nikon Monarch 3
Close Focus
Although the manufacturers' specifications indicated a 9.8ft (3.0m) and 8.5ft (2.6m) close focus distance for our Monarch 3 and SII Blue Sky, respectively, as one might expect the actual measurements came in somewhat less. Our test instruments provided a close focus distance of 9.0ft (2.7m) for Monarch 3 to compare with the 6.8ft (2.1m) for SII Blue Sky.
Although it would be an assumption to think that all of the Blue Sky units would have similar close focus distances, the shorter distance will generally be preferred by our bird watching and butterfly observing friends. For most other users, the close focus distance is not as likely to be a point of particular interest.
Nikon Monarch 3 vs Sightron SII Blue Sky Comparison — Depth of View
When using the two binoculars in a side-by-side comparison, we felt the depth of view (or depth of focus) was better with the SII Blue Sky binocular. This may have been a factor in our ability to achieve a good focus with the Blue Sky in low light conditions, as noted above.
Recommendation
While both binoculars will undoubtedly serve an individual well, we enjoy getting out in the pre-dawn and twilight hours and enjoy a binocular that will perform well from before dawn to after the sun sets. We think that the positives of the Sightron SII Blue Sky will outweigh the negatives for most users and, for the money, the SII Blue Sky is the one we'd like to take home with us.
If you haven't already, please read the individual reviews of the Sightron SII Blue Sky and Nikon Monarch 3 binoculars. They provide much more information about each of these binoculars.
Use this link to go directly to the Sightron SII Blue Sky binocular selection available at Amazon.com (USA)
. If you're interested in the Nikon Monarch 3 binoculars, this link will take you directly to the selection at Amazon.com (USA)
.
| | | |
| --- | --- | --- |
| Manufacturer's Specifications for 10X42 Configuration | Nikon Monarch 3 7541 | Sightron SII Blue Sky |
| Prism Coating | Silver Alloy | Silver Alloy |
| Field of View at 1,000 yd/m ft/m | 299/100 | 361/121 |
| Close Focus Distance ft/m | 9.8/3.0 | 8.5/2.6 |
| Exit Pupil (mm) | 4.2 | 4.2 |
| Eye Relief (mm) | 17.4 | 15.3 |
| Weight oz/g | 24.7/700 | 24.3/689 |
| Inter-pupillary Distance (mm) | 56-72 | 54-76 |